Luxury industry faces challenges with coronavirus outbreak
How bad the luxury market will be impacted by the outbreak will depend on how long it lasts and how the brands react to the crisis
20 Feb 2020
|
Janette Chen
China, the major driver of global luxury spending growth, has been hard hit by the coronavirus or covid-19 outbreak. How bad the luxury market will be impacted by the outbreak will depend on how long it lasts and how the brands react to the crisis.
With the global economic downturn and sluggish consumption, last year was already not easy on the luxury industry. But luxury giant LVMH Moët Hennessy – Louis Vuitton SE (LVMH) still managed to grow its business and boost its stock price by 65% in 2019, enabling LVMH's chairman and CEO Bernard Arnault to overtake Amazon's Jeff Bezos and become the world's richest man.
Whether Arnault and LVMH can maintain their momentum in 2020 is difficult to predict as the covid-19 outbreak is definitely adding uncertainty to the markets. LVMH said during the presentation of its 2019 financial results last week that it has been forced to close some of its stores in China.
And although the world's largest luxury group recorded revenue of €53.7 billion (US$50 billion) in 2019, up 15% year-on-year, it "enters 2020 with cautious confidence", according to Arnault. "If [the outbreak] dies out in two months or so, it will not be terrible. If it takes two years, that's a different story."
However, it's inevitable that the covid-19 outbreak will have an impact on the luxury industry as Chinese consumers are predicted to make up almost two-thirds of the industry's spending growth.
China has been the world's second-largest market for personal luxury goods since 2016. That market was worth US$381.7 billion in 2019, accounting for 40% worldwide, according to data from Chinese think-tank Yaok.
The country also delivered more than half of the world's luxury spending growth between 2012 and 2018, and is expected to deliver 65% of it by 2025, according to a report from McKinsey.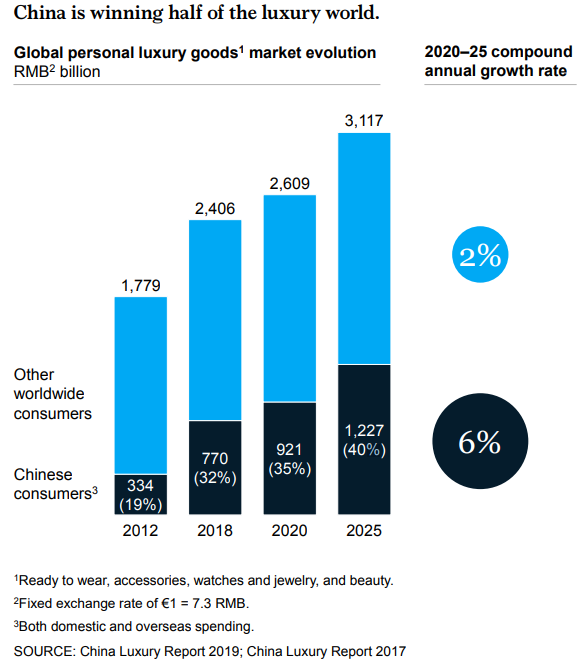 This is largely due to the emergence of vast numbers of newly wealthy Asians over the past decade, according to Julius Baer's Global Wealth and Lifestyle Report 2020. "In particular, Chinese buyers now dominate purchases across categories, from cars to watches," says Jimmy Lee, who heads the Swiss private bank's Asia-Pacific division.
However, the covid-19 outbreak is hurting the business as shopping malls are either closed because of it or seeing very limited numbers of customers. As well, Chinese regulators have called for travel agencies to suspend sales of domestic and international tours in an effort to contain the spread of the virus. Many countries have also suspended flights from China, which will reduce Chinese overseas luxury spending.
Chinese analysts note that predicted luxury spending that normally would have taken place during the Spring Festival holiday season was down 70% as a result of the virus, but that online channels may be able to ease the current pain that most of the luxury brands outlets are enduring.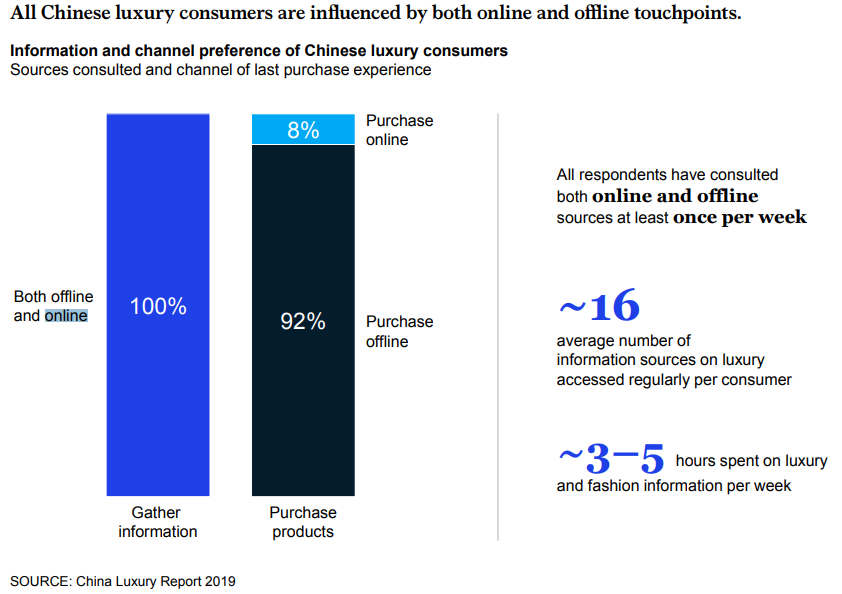 Chinese consumers lead the world in purchasing luxury goods online, according to a McKinsey report, with about 8% of Chinese luxury consumers using e-commerce channels.
In 2019, e-commerce luxury sales generated US$7.5 billion in revenue, accounting for 16% of total luxury sales in China, according to Yaok. This represents a 40% year-on-year growth and is predicted to increase by 50% in 2020.
With more Chinese luxury consumers switching to online channels and the covid-19 outbreak hitting offline sales, investing in online channels can be a wise choice for players in this sector.