Why J.P. Morgan AM is jumping into the European ETF market
Can J.P. Morgan AM prove ETF expertise outside US and break competitive European market?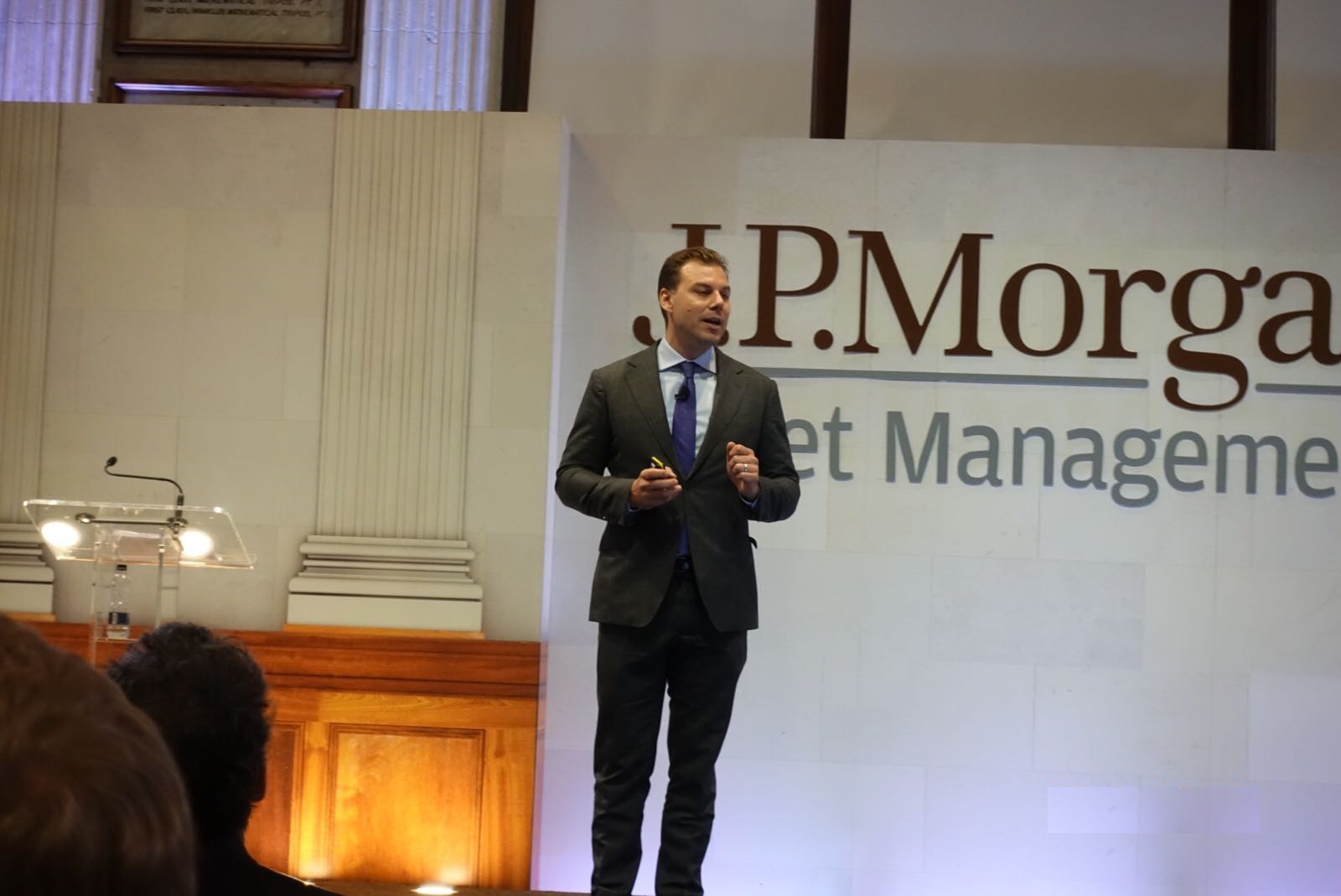 Byron Lake, international head of ETFs for JPMAM, at J.P. Morgan's International Media Tour 2017, on October 10 2017
LONDON – AMID the uncertainty of the Brexit negotiations currently gripping this city, US asset manager J.P. Morgan Asset Management (JPMAM) has launched its first two European exchange traded funds (ETFs) in a bid to become a major player in the lucrative but highly competitive global ETF market.
The ETFs were launched at the International Media Tour 2017, a two-day event held at the firm's headquarters at 60 Victoria Embankment, a historic Grade II listed building, with over 100 European and Asian finance journalists in attendance.
That JPMAM has chosen this city to launch its first European ETF products is perhaps a vote of confidence for the city, whose status as Europe's primary global financial centre appears threatened by an impending loss of stature that a failure of the Brexit negotiations may bring.
The launch of its European ETFs is also a major step forward for JPMAM, who until now is better known globally for its mutual funds products as well as its expertise in the US and Asian markets. By launching its first European ETFs, JPMAM is signaling that it intends to become a global player in the ETF market that has been dominated by a few giant players, as well as attempting to project an image that it also has ETF expertise outside the US domestic market.
Whether it will succeed, however, remains to be seen as the European ETF market is highly competitive and is currently dominated by the top three providers: Blackrock ishares, db X-trackers and Lyxor, who account for two-thirds of the entire market.
Although JPMAM has ETFs listed in the US market, as an ETF provider it is dwarfed by Blackrock ishares, State Street Global Advisors and Vanguard, who together account for 70% of the US$4 trillion global ETF market. As of September 25 2017, JPMAM has 13 US-listed ETFs with US$2.2 billion in assets under management.
The size of the European ETF market is estimated at US$750 billion in assets under management (AUM), much less than the size of the US market with US$2.5 trillion, but is expected to double to US$1.5 trillion in the next few years. Global ETF flows also remain very strong, with a compound annual growth rate (CAGR) of 21% between August 2012 and August 2017.
To increase its chance of success, JPMAM is targeting hedge fund investors by launching two actively managed liquid alternative strategies, the JPM Equity Long-Short UCITS ETF and JPM Managed Futures UCITs ETF, that will be listed on the London Stock Exchange shortly. Both ETFs will also be made available to investors across key markets in Europe in due course. JPMAM is billing the launch of its European ETFs as part of the "democratization" of hedge fund investing.
"Both ETFs will offer investors exposure to the investment characteristics typical of hedge funds by using alternative beta which extends the concept of beta investing from long-only traditional strategies to include both long and short investing," says Byron Lake, international head of ETFs for JPMAM.
Alternative beta strategies are rules-based strategies designed to provide access to the portion of hedge fund returns attributable to systematic risks (beta) versus idiosyncratic manager skill (alpha), using a methodical approach. The JPM Equity Long-Short UCITS ETF will seek to provide long-short exposure to factors like value, quality and momentum within developed global equity markets in a liquid and transparent vehicle.
The portfolio will be constructed bottom-up by taking long and short positions in individual equity securities and will be built using a systematic, rules-based investment approach. The JPM Managed Futures UCITS ETF will seek to provide systematic exposure to carry and momentum factors across four asset classes: equities, fixed income, currency and commodities.
"The strategy will also be constructed bottom-up by taking long and short positions in futures markets across these asset classes with the goal of providing returns that are uncorrelated to traditional asset classes," says Lake. Both strategies are designed to provide access to the potential diversification and risk-return efficiency for which hedge fund strategies are valued—in a more liquid, transparent and cost-effective format.
"The strategies were designed by JPMAM's Quantitative Beta Strategies team, which is a team of quantitative research analysts and portfolio managers focused on factor-based investing across strategic beta (long-only) and alternative beta (long-short) strategies," says Lake.
The production of the two ETFs was led by Yazann Romahi, chief investment officer of Quantitative Beta Strategies at JPMAM, whose team has been focused on beta philosophy research and development for more than a decade. "For example, JPMorgan Funds - Systematic Alpha Fund was one of the first strategies to make the concept of alternative beta investable upon its launch in 2009," says Lake.
Romahi's team has been at the forefront of alternative beta investing, which has enabled a wider audience to participate in the diversification benefits of hedge funds and continues to have a transformational impact on alternatives investing.
"When we started doing research on alternatives more than a decade ago, we built on the academic research which suggested that a large portion of hedge fund returns could actually be accessed using a bottom-up, systematic, rules-based approach – the same way traditional passive investing in long-only markets works. Now we're looking to bring the same benefits of diversification, reduced overall portfolio volatility, and higher portfolio risk-adjusted returns to the ETF wrapper through the launch of these two ETFs," says Romahi.
Lake says that this first wave of ETF listings is the next step in JPMAM's commitment to building its active, strategic beta and alternative beta ETF capabilities, with a view to serving the needs of clients globally.
"We intend to build on this momentum going into 2018 as we introduce more of JPMAM's investment capabilities into the ETF vehicle. Providing investors with institutional-quality hedge fund strategies in a cost-efficient, liquid and tradeable ETF wrapper should help to advance the democratization of hedge fund investing," says Lake.